Florida Vacation Rentals. (370 units in 37 Cities)
You can also click a city name from the map below to view the rentals in that area.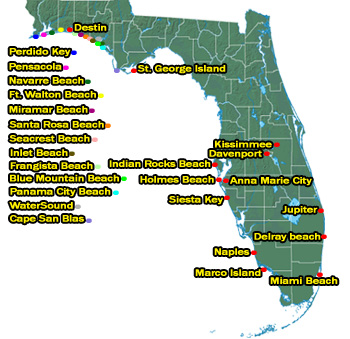 Florida Vacation Rentals

Florida "Sunshine State" is one of the most traveled states in the United States. With over a thousand miles of beaches, amusement and water parks, golf courses and other outdoor activities, a retreat in Florida is the answer for an amazing vacation. With several accommodations available in the state of Florida, ivacationonline.com provides an online booking system, allowing you to directly book your vacation rental by owner.

Beautiful white sandy beaches and breathtaking ocean water surrounds the state of Florida. This provides action night and day for all ages. These incredible beach areas allow you to enjoy activities such as: swimming, fishing, snorkeling, wake boarding, scuba diving and much more. The nightlife on the beaches of Florida is amazing. There are several places to dine, night clubs, amusement and arcades, along with plenty of places to shop.

Some areas include:



Florida Vacation Rentals are very abundant starting from the Panhandle to the Keys, along with Walt Disney World in the city of Orlando. Not really sure where you want to stay? Check outDestin Vacation Rentalsin the Panhandle.

So, are you ready for the ultimate vacation experience? Click on the city of your choice and begin booking your next dream vacation in the beautiful state of Florida using ourvacation rental management software.



Learn More About Florida Vacation Rental Homes and Condos
ivacationonline.com Search
SEARCH VACATION RENTALS BY
Owner ID:
City:
State:

Refine Search
Bedrooms:
Property Type:
Availability
First Night:
Last Night:

(Property ID, City or State Required)
Email Newsletter Sign Up
Featured Vacation Rental!
South Seas
33 Amber Cove
Destin, FL 32550, US
Click Here To Visit
This Single Family Home Vacation Rental features 4 Bedrooms, 3.5 Bathrooms, Located Beach Block and accomodates 1 - 14 occupants. More Info
Featured Vacation Rental!
Featured Vacation Rental!
Featured Vacation Rental!