Panama Vacation Rentals. (0 units in 0 Cities)
You can also click a city name from the map below to view the rentals in that area.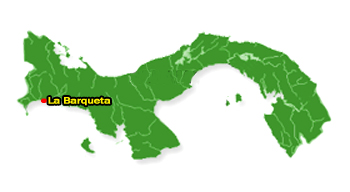 Panama Vacation Rentals

Panama is located in Central America between Costa Rica and Colombia. This Latin American country is a tourist vacation paradise. There are two different oceans located on the beautiful beaches of Panama; The Caribbean Sea and North Pacific Ocean. The prime time to visit Panama is during the dry season between the months of December and April. This begins the summer season when the flowers begin to bloom and everything is green.

Panama has everything to provide you with a vacation of a lifetime. With miles and miles of coastline you can enjoy the beautiful beaches and stunning ocean waters of the Pacific or the Atlantic. Take an adventurous hike or atv ride through the rain forest and mountains to observe the abundant of wildlife. There are several amazing waterfalls throughout Panama that attract tourists. You can even go zip lining through the cloud and rain forests, which is a must do during your vacation. Local guides and outfitters are available in most areas to enjoy your day in the forest or mountains.

Take advantage of the shopping offered in Panama. The paper currency used in the country is the US Dollar and you can find some amazing deals at the locals malls, stores and boutiques. The latest electronics, fashion, perfume, arts and crafts are all available in name brands. Enjoy the duty free shopping and great prices.

Panama City is the capital of Panama and the main air hub for the country. When traveling to your preferred destination, you are usually flown into the capital first. The United States offers direct flights to Panama City from various cities, which include: Miami, Houstan, Los Angeles, Newark and Orlando. You can be in Panama in as little as 2.5 hours from the USA! Once you are in Panama City, you will catch a flight to your destination of choice.

Some areas include:



Other opular destinations to find rental villas, condo rentals or vacation homes include: Bocas del Toro, Boquete, Panama City, Playa Barqueta and many more beautiful areas. When staying in your rental home by owner, you will know what it is really like to enjoy of piece of heaven on earth.

The Panamanians are extremely warm and friendly people. They are very respectful towards you and really make you feel at home while on vacation. Panama is also one of the safest countries for traveling and vacationing. The prestigious Pinkerton Intelligence Agency gave Panama the highest rating for tourist safety in the Americas!

As you can see Panama is everything you are looking for in a Dream Vacation. You are in Paradise, with everything imagineable around close to you. From the beaches and oceans, mountains, rain and cloud forests, volcanoes and much more. You can enjoy everything all in one vacation vs. multiple ones.

You can book your dream vacation right here at www.ivacationonline.com using ourvacation rental management softwarein just a few minutes!!
ivacationonline.com Search
SEARCH VACATION RENTALS BY
Owner ID:
City:
State:

Refine Search
Bedrooms:
Property Type:
Availability
First Night:
Last Night:

(Property ID, City or State Required)
Email Newsletter Sign Up
Featured Vacation Rental!