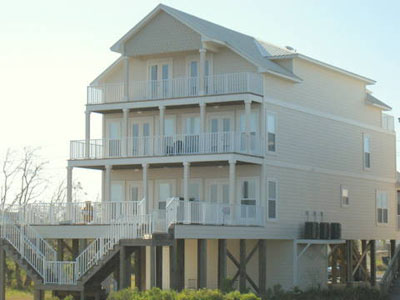 Please print these Terms and Conditions for your records.
The property will be ready for occupancy at 4:00 PM CST on the beginning date of the lease and must be vacated by 10:00 AM CST on the ending date of the lease. This is a WEEKLY RENTAL ONLY During high season, some units may not be ready by 4 PM.
This lease is between the LESSEE or Guest and

Luther Sutter

or LESSOR.

Luther Sutter, Sole Proprietor & Delmar Management, Inc

is the management entity that operates this unit.
Street address for this property is:

1328 W. Lagoon Ave

, Unit B, Gulf Shores, AL 36542

.
This duplex is on

West Lagoon Ave

, approximately

2.0

miles west of Hwy 59 on

West Lagoon Ave

the

north

(right)

side of the street. This is a non-smoking home. No pets are allowed.
Check-in Time:
This unit will be ready for occupancy at 4:00 PM CST. Occasionally the cleaning staff may need additional time in order to ready the home for your stay. We ask for your patience and suggest you have alternate plans available in the event additional time is needed. Please do not interrupt or delay the cleaning staff if they are at the house. Let us know

immediately

if the unit has not been properly cleaned.
Check-out Time:
Check-out time is at or before 10:00 AM CST. A

$50 per hour

fine will be assessed for guests remaining after 10:00 am CST on the day of check-out unless a late check-out has been approved in writing in advance. Late check-out is not available for Saturday-Saturday stays in peak spring break and summer seasons.
Security Deposit:
In lieu of a security deposit we will hold your credit card on file. If there are damages to this unit during your stay, we will bill your credit card and send you an invoice. You agree to this by booking this unit. The balance of rent and any other fees are due 60 days before you arrive. Please mail a check to

Luther Sutter, Sole Proprietor

.

If you are booking within 60 days of arrival, the entire amount is due at the time of reservation.
You are responsible for any and all damages that occur to the property or its contents by you or any other member of your group, individually or collectively, while you are the registered occupant of the property.
CREDIT CARD AUTHORIZATION:
I understand and consent to the use of the credit card provided without original signature on the charge slip, I understand that by "clicking the check boxes on the terms and conditions page of the lease application " that I have read the terms and conditions of this property, I am bound by this agreement and I have signed "electronically, and that this Credit Card Authorization cannot be revoked and will not terminate until 90 days after leased premises are vacated. Charges may include but are not limited to: unauthorized long distance telephone and TV charges; damages beyond normal wear and tear; unreturned keys, and parking violations.
Damage:
Any damage noticed upon arrival should be reported to the owner immediately. If damage is not reported, your credit card may be charged for the cost of the repair.
All general maintenance should also be reported so the house can be kept in good repair.
In order to prevent additional charges to your credit card on file, the following must occur:
a) No damage is done to the home or its contents, including linens.
b) No items are removed from the home or are missing upon the inventory check. This includes transferring items between units. All towels, pillows and linens must remain in the house.
c) All debris, garbage and discards are placed in outdoor trash cans.
d) Soiled / dirty dishes are placed in the dishwasher, use DISHWASHER DETERGENT ONLY and start the dishwasher. Dishwasher detergent is not provided.
e) There is no sign of unauthorized pets. We have a firm no pet policy!
f) House is left in neat condition
g) Occupancy is not exceeded
h) There is no evidence of smoking in the house, and cigarette butts are not left on the decks, in the yard, etc.
Severe Weather/Trip Insurance:
We do not refund rents or deposits lost due to cancelled or shortened stays because of weather. Departures due to inclement weather do not warrant refund of rent or deposit.
We strongly recommend purchasing travel insurance, however this is optional.
Hurricane Policy and Tropical Storm Policy
We do not offer any refunds for Hurricanes or Tropical Storms.
We highly recommend getting TRAVEL Insurance for your trip.
It is up to the Guest to purchase this coverage for your trip. Coverage is available for health and weather related problems. Please call the travel insurance companies directly or order online to purchase this in your name.
Trip Interruption and Trip Cancellation Insurance Coverage is available for weather-related problems and a host of other events but must be purchased before a storm is forecasted or predicted, or health issue occurs. We recommend you consult a site such as
Travel Guard.
Please read this

Cancellation

or

changes

of reservations with advance payments policy.

Cancellations

that are made more than sixty (60) days prior to the check in date will forfeit a minimum charge of $500.00.

Cancellations

that are made within sixty (60) days of the check in date forfeit the full advance payment. Any

Changes

that are made more than sixty (60) days prior to the check-in date will not be penalized. Any

Changes

made within sixty (60) days of the check-in date that result in shortened stay, change of dates, change of location or unit, may result in loss of entire advance payment. Cancellations and early departures due to inclement weather do not warrant any refund of rent.
Pets
:
No pets are permitted. If any evidence of a pet(s) is found in the house, you will be asked to vacate immediately with no refund of rent.
Parking
:
You may park up to 3 cars in our driveway (each unit has room for two under the house). You may not park or store a boat or jet ski trailer in the driveway. No RVs may be parked in the driveway or hooked up to the house. Do not park in the grass for any reason!
Age Requirements:
We do not rent to vacationing students or singles under 25 years of age unless accompanied by an adult guardian or parent. No chaperoned groups for spring break or graduation trips.
Maximum Occupancy:
The maximum number of persons permitted is limited to

TEN (10)

per unit. We will not rent to vacationing students or singles under 25 years of age unless accompanied by an adult guardian or parent. No chaperoned groups for spring break or graduation trips. VIOLATION OF THIS PROVISION SUBJECTS LESSEE TO SIGNIFICANT PENALTIES WHICH ARE NECESSARY TO PROTECT THE LESSOR AS THIS IS A SHORT TERM VACATION RENTAL. No exceptions shall be permitted without prior approval and additional fees may apply. Violation of maximum occupancy will result in immediate eviction with no refund of rent or damage deposit. In the event the LESSEE allows the premises to be occupied by more than

10 persons

, the Lessee shall be responsible to pay the LESSOR the sum of one hundred dollars ($100) per person in excess of

10 persons

per day for each day the LESSEE allows the premises to be occupied by more than

10 persons

.
Cleaning:
No daily maid service is provided. A one-time set up of linens, bath towels, garbage liners, paper towels, bath soap and toilet paper is included. Vacuum cleaner, brooms, etc are in the home should you need them. Do not remove towels or linens from house.
Please bring your own beach towels. We do not provide beach towels.
Trash:
You are responsible for putting out trash cans on

Sunday

and

Wednesday

nights, and bringing them back in the following morning. This will insure that there is sufficient room in the cans for your trash when you check-out.
NOTE:
The trash company will not pick up anything not placed in cans.
Grills and Grilling
– We do provide a grill.
If a grill is used on the property please follow these simple instructions…
·
No grilling on the wood decks or balconies
·
Do not discard used coals or ash in grass or wetlands area
·
After coals have been COMPLETELY extinguished, put into a sealed plastic garbage bag and discard in outside waste receptacle
Fireworks

: The use of fireworks is prohibited on all of our vacation properties. Local City ordinances and fire code prohibit the use of fireworks on beaches, buildings, or grounds.
This is a 3 story home with balconies
, stairs and a pool. Pools, balconies and stairs present an inherent danger. You are accepting full responsibility for the safety of renting parties and all guests; and agreeing to supervise children to ensure their safety. CHILDREN UNDER THE AGE OF 16 MUST BE SUPERVISED ALL THE TIME IN THE POOL AREA.

Luther Sutter, Sole Proprietor

and Delmar Management, Inc. assumes no responsibility for any accident or injury in connection with such use. Persons using the pool and pier agree with the Owners for and in consideration of the use of the pool and pier, to make no claim against the owners for or on account of any loss of life, personal injury, or damage to or loss of personal property.
POOL RULES are posted and must be followed!
·
Please do not take glass containers into the pool area for any reason
·
Please do not hang towels on Balconies or Pool fence.
·
Please do not touch TIMERS, filters, heaters or pool mechanical devices, if you experience a problem please contact maintenance man or owner immediately
·
Please do not leave your pool toys in the pool or pool area. Items left in the pool area overnight are not secure and will be discarded by the management.
·
Do not remove pool furniture from the pool area.
·
Do not bring condo furniture into the pool area.
The pool closes at 10:00 pm. No guests are permitted to remain after 12:00 am until 9:00 am.
By entering into this agreement you will inform all members and guests of your party of these rules.
THE PARTIES ACKNOWLEDGE THE LAGOON IS SHALLOW AND IS A WILDLIFE AREA. DIVING FROM THE PIER AND RUNNING IN OR AROUND THE PIER AREA IS PROHIBITED
THE PARTIES FUTHER ACKNOWLEDGE THAT "LITTLE LAGOON", THE LAGOON IMMEDIATELY BEHIND THE PROPERTY IS A BODY OF WATER OWNED BY THE STATE OF AL FOR WHICH THE LESSOR OWES NO DUTY. TO THE EXTENT THE LESSEE CHOOSES TO USE THE WATER LOCATED IN THE LAGOON FOR ANY PURPOSE THE LESSOR SHOULD HAVE NO RESPONSIBILITY FOR ACCIDENTS, INJURIES OR OTHER EVENTS THAT OCCUR ON IN OR AROUND THAT BODY OF WATER.
Other Terms and Conditions:
1)
LESSEE
assures LESSOR that the tenants will observe all terms and conditions of this lease as to maintaining the premises in good order and appearance and will conduct themselves in a manner inoffensive to neighbors or other guests.
2)
Falsified Reservations
– Any reservation obtained under false pretense will be subject to forfeiture of rental money and the part will not be permitted to check-in or the party will be evicted with loss of all funds.
3)
LESSEE
assures LESSOR that any tenant who violates any of the terms of this Lease shall be immediately denied occupancy and shall remedy any damages or other expenses, which are caused by the tenant and/or the tenant's guest(s). We reserve the right to provide an invoice and charge credit card on file for any such damages, and/or refuse rental or to discontinue occupancy if in our judgment your occupancy of the unit is detrimental to the property.
4)
LESSEE
and/or their guests shall not disturb, annoy, endanger, or inconvenience neighbors, nor use the premises for any immoral or unlawful purposes, nor violate any law or ordinance, nor commit waste or nuisance on or about the premises.
5)

LESSEE agrees that any tenant who is found using drugs or allows others to use drugs on the premises will be immediately denied continued occupancy at these premises.
6)
LESSEE
agrees that during the term of this lease and such further time as he/she occupies the premises, he/she will keep the leased premises clean and free of trash, garbage, and other waste; and all pipes, wires, glass, plumbing and other equipment and fixtures in the same condition as at the beginning of, or put in during the term of the lease, reasonable wear and tear and damage by unavoidable fire and casualty being the only exceptions.
7)
LESSOR
cannot guarantee air conditioners, televisions, appliances, etc. No refund or rate adjustment will be made for mechanical failures. In case of breakdown, LESSOR will strive to repair it as soon as possible after being notified by you of the problem. Report any problems to
Luther Sutter, Sole Proprietor 501.952.9459
.
8)

LESSEE agrees that he/she shall not paint or make alterations to the property, including changing existing locks or adding new ones, without the LESSOR'S written consent.
9)
LESSEE
agrees to indemnify and save LESSOR harmless from all liability, loss or damage arising from any nuisance or harm made or suffered on the leased premises by the LESSEE, tenants, or guests or from any carelessness, neglect, or improper conduct of any persons entering, occupying or visiting the leased premises. You are assuming all risks and liabilities for any damage done to person or property, agents, employees, or visitors occasioned by the present or future condition of the premises, both latent and manifest. We will not be responsible for accidents or injuries to guests or loss of money or valuables of any kind.
10)
Upon not less than 24 hours notice, LESSEE shall make the premises available to LESSOR (or his agent) for the purpose of inspection, repair, management or showing to prospective tenants. In an emergency, LESSOR (or his agent) may enter the premises at any time without securing prior permission from LESSEE.
11)

LESSEE may not let, sublet or assign this lease for all or any part of the premises without prior consent of the LESSOR.
12)

If LESSEE abandons or vacates the premises, LESSOR may at his option terminate this lease, enter the premises, and remove all property.
13)

In the event that any action shall be commenced by either party arising out of, or concerning this lease or any right or obligation derived there from, the prevailing party shall be entitled to receive attorney's fees as fixed by the Court in addition to all relief at law or equity.
14)

Either party may terminate this lease in the event of a violation of early provision of this lease by the other party in the manner and as provided by law.
15)
LESSEE
assumes full responsibility for fulfilling the terms of the lease, for the period stated and assures the LESSOR full recourse for the payment of any amount outstanding from the total amount due in accord with the terms as stated above including any outstanding or unpaid charges that are the responsibility of the LESSEE.
16)
Any use of this property other than standard lodging use must be authorized by LESSOR

.

(i.e. parties, receptions).
17)
Written Exceptions – Any exceptions to the policies contained within this agreement must be approved in writing in advance by LESSOR.
Check-Out Procedures
We know you are on vacation and appreciate your business! Please follow the check-out procedures so we can prepare the house for the next arriving guest as they arrive only hours after you leave. If you leave the unit is great shape, the next family will have access to it on time. Most of our guests follow all of these rules. For the exceptions, this is notice that a $50 fee per hour or per incident (whichever applies) will be charged to your credit card on file. We appreciate your cooperation.
Check-out time is by 10:00 am CST. Our cleaners arrive at 10:00 am to start cleaning.
1.
Please place all used towels, wash clothes and dish towels (soiled linens) in the tub or shower area of each bathroom. Please do not leave wet towels on the floors as water damage could occur.
2.
Strip sleeper sofa sheets if used. Places sheets in nearest bathroom shower or tub.
3.
Leave beds unmade that have been used.
4.
Sweep floors. Vacuum and Broom Dustpan provided in utility room.
5.
Place all soiled dishes in the dishwasher and start the dishwasher prior to departure.

Use dishwasher detergent only.
6.
Please wipe down Kitchen Countertops.
7.
Please wipe out the Microwave.
8.
Remember to turn off coffeemaker, empty unused coffee and discard grinds if used.
9.
Empty the refrigerator and freezer of all contents into a garbage bag(s) and place in outside trash receptacles.
10.
Place

all

trash in the large outside trash bins. Kitchen, bathroom and Laundry room receptacles should be checked.
11.
Return indoor and outdoor furniture to original position.
12.
Please hang all beach chairs on hooks provided in storage rooms.
13.
Remember to lock storage unit door in parking area.
14.
Do not leave sand or shells in/on furniture, tubs, sinks, etc.
15.
Check the house thoroughly for any personal belongings.
16.
Please turn off all lights, ceiling fans and electronic devices.
17.
Set thermostat to AUTO MODE. Settings 78* F for air conditioning in SUMMER and 60*F for heat in the winter. Do not turn units off.
18.
Close and lock all windows and doors.
19.

Please leave both set of keys on kitchen counter.
Please leave the home neat and orderly to avoid additional charges. If the cleaning crew finds that the home has been left excessively dirty, you will be billed for the additional cleaning time at a rate of $50 per hour. Please leave the house in as good condition as possible. The cleaner we find it, the faster we can turn it over to the next guest. We appreciate your help.
Damages and General Provisions: You are responsible for any and all damages that occur to the property or it's contents by you or any other member of your group while you are the registered occupant of the property, as well as any consequential damages incurred by any breach of this lease. If the breach causes the Unit not to be in rentable condition, Lessee agrees to pay the sum of $500.00 per day, or the amount of rent lost as a result of the damage, whichever is greater. This contract shall not be construed against the Lessor. In lieu of a security deposit, we will keep your credit card on file as a security deposit. If we discover that there has been damage to the property or it's contents while you are the occupant, we will capture an amount from your credit card to cover the estimated cost of repairs. The amount we capture will be an estimate and will probably be more than the actual cost of repairs. We will provide a statement of the damages and the cost of the repairs after they have been completed. If there is a refund due, it will be returned to the credit card after all repairs have been made. If the cleaning company detects any evidence of smoking in this home, you will be billed an additional $200 to deodorize the home.
The Law of the State of Arkansas applies to this contract. The parties agree that the exclusive forum for breach of this contract will be in the Circuit Court of Saline County, Arkansas
Please do not remove our sheets, blankets or bedspreads from the house.
Many of our neighbors are kind enough to let us access the beach by walking between the properties. Please do not test their patience! We also have public beach access at the end of the block, at 13th street. In most cases you can walk between houses where both have rental signs out front.

Please take a trash bag to the beach with you so you can dispose of any wrappers, cans, etc. Dropped trash is one of the biggest complaints that will lead to our no longer being able to walk through to the beach.

Please do not walk under the houses, or use their showers. This is like coming out of your home and finding someone in your garage. We have an outdoor shower for washing off sand.
Items recommended to bring by lessee and not provided by owner.
·
Paper and Plastic Products
REMEMBER
GARBAGE DAYS ARE Monday and Thursday! Kindly set cans out the night before and retrieve after pickup.
Luther Sutter, Sole Proprietor
Delmar Management, Inc
Patent Pending Automated Online Booking System for Private Owners
Copyright © 2004-2020 by ivacationonline.com, LLC.
Use of this website constitutes acceptance of the ivacationonline.com LLCTerms & Conditions.